Thursday night, Amanda landed in LAX all the way from New Orleans and my flight from Monterey landed just an hour after hers. We met at baggage claim and it was so great to see Amanda after all this time... we hadn't seen each other for over a year! After getting my car and finally getting to the restaurant, we got to Baja Cantina around 11pm and were starving and ready for a margarita! We were so tired but it was good to catch up and even made a couple of friends at the bar!
The next day, I had to work but afterwards, we went for a run down by the beach and like always, the weather was perfect! There were so many people out blading and running... good times. After our run, we went back to my place to get Amanda packed up- she was just in town overnight because she was catching her flight later on that night to head to Australia for at least 6 months.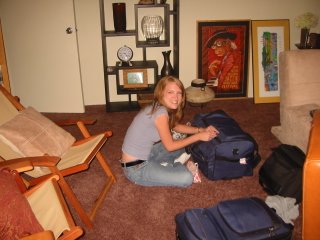 She was granted a visa to work for 4 months and then is able to hang out for another 2 months but who knows, she may stay longer. Amanda decided that she wanted to try living somewhere different so she is going over there and has no idea where she will stay or where she will work. She is my new hero... I am so excited for her!
As a going away present, I treated Amanda to a massage and it was her first professional massage ever! We had massages at The Massage Place (definitely recommend that place for all the LA folks- and ask for Dave at the Venice Beach location on Main street) and then after, headed to Lily's for dinner. By this time, it was time to take Amanda to the airport so she could catch her red eye flight to the land down under. I am so proud of her and hope that while she is there, I will be able to come visit. Be safe Amanda and definitely keep in touch.